MBD for ANSYS Multibody Dynamics Simulation
MBD for ANSYS offers powerful Multi-Body Dynamic (MBD) analysis capabilities within the ANSYS Workbench environment. This allows ANSYS users to simulate the motion and all of the related physics of mechanical assemblies, enabling them to understand the behavior of their assemblies up-front and to generate the loads needed for component-level FEA. MBD for ANSYS also serves as a bridge to advanced MBD capabilities, by allowing the user to export models to the standalone RecurDyn software.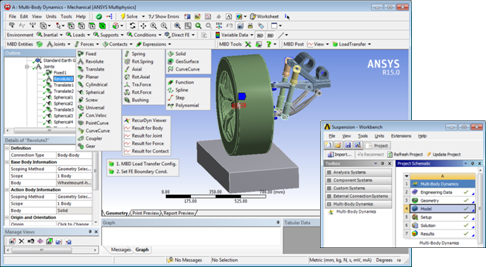 Features
Models contacts easily and quickly solves models with contacts.
Defines load cases by selecting output points from the work cycle and automatically defines the static structural systems for the selected component.
Provides MBD-specific advanced post processing.
Provides a way to transfer the full MBD model to an advanced MBD tool when needed.
Fully-Functional MBD Software Embedded in Workbench
MBD for ANSYS is tightly integrated into Workbench with capabilities for:
MBD model development
Editing and analysis
Post processing
All of the MBD for ANSYS menus fit in the bottom row of the Mechanical window shown in the figure, and selected menus are expanded. A new Multi-Body Dynamics system is defined in the Workbench window as shown.
More Information